A few days ago Pastor Lindsey Williams was made aware of a video circulating the Internet that stated that Pastor Williams had made a prediction that an asteroid would hit the earth on September 24, 2015. This prediction was not made by Pastor Williams. He has told me this:
"I did NOT write this – I did NOT produce this video or make this prediction. It is  being attributed to me but I had nothing to do with it."
I have contacted the video producer, YouTube and Vimeo to have Pastor Williams' name removed from the video. As far as I am aware this has been carried out. There are still many articles circulating the Internet that have not removed Pastor Williams' information even know I have personally contacted them to advise them.
I am at a loss to understand why these websites have not contacted LindseyWilliams.net to ask if the story was correct before repeating it.
Therefore, please disregard any predictions presumably made by Pastor Williams unless they are made through his official channels, namely LindseyWilliams.net and ProphecyClub.com.
Regards
James Harkin
On behalf of LindseyWilliams.net
---
---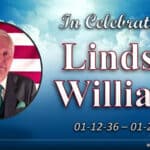 "I have fought a good fight, I have finished my course, I have kept the faith." – Lindsey Williams In Celebration of LINDSEY WILLIAMS January 12, 1936 – January 23, 2023 On Saturday, April 1, 2023, at FBC Fountain Hills dba Cornerstone Family Church in Fountain Hills, Arizona, there was a special Memorial service in celebration of […]
This is part 11 of a series of 12 informative videos on how to cope with all the damage COVID brings. Where Pastor Lindsey Williams interviews Rodrigo Rodriguez, MD, founder of BioCare Hospital and Wellness Center. Call BioCare Now:  1-800-262-0212 Website: International BioCare Hospital and Wellness Center Pastor Lindsey Williams Hi, this is Lindsey Williams. […]
This is part 10 of a series of 12 informative videos on how to cope with all the damage COVID brings. Where Pastor Lindsey Williams interviews Rodrigo Rodriguez, MD, founder of BioCare Hospital and Wellness Center. Call BioCare Now:  1-800-262-0212 Website: International BioCare Hospital and Wellness Center Pastor Lindsey Williams Hi, this is Lindsey Williams. […]