In the year 1971, Lindsey Williams went to the state of Alaska to become an aviation missionary. Shortly after arriving in Alaska, Mr Williams heard the oil companies were going to build the Trans-Alaska Oil pipeline and that 25,000 pipeliners were going to converge on the state to build it. Mr Williams consequently volunteered his services as chaplain on the pipeline. Shortly after becoming chaplain, Alyeska Pipeline Service Company offered him executive status and invited him to sit in on their board meetings in an advisory capacity to help the relationship between management and labor. What he heard over the next three years time would change his life. He learned that OPEC had nothing to do with the price of oil but that the elite of the world controlled it.
*** You have to get gold and silver, immediately! You must hold it in your hand. You can buy Gold and Silver Coins and Bars at Wholesale prices and with Free Shipping on Orders over $199, through our Recommended Gold and Silver Dealer. Check out the special gold and silver offers here.
*** If you have an IRA or 401k you need to rollover your Retirement Account into Gold and Silver Bullion as soon as possible! Time is short! You can find out more about the process of turning your paper assets into Physical Gold and Silver by Clicking Here and talking to this Gold and Silver IRA Specialist.
This presentation of The Energy Non-Crisis by Chaplain Lindsey Williams was given at The Freemen Institute Century Club Banquet. According to Chaplain Williams, it is one of his best presentations on The Energy Non-Crisis and is required viewing by all Americans.
---
---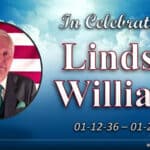 "I have fought a good fight, I have finished my course, I have kept the faith." – Lindsey Williams In Celebration of LINDSEY WILLIAMS January 12, 1936 – January 23, 2023 On Saturday, April 1, 2023, at FBC Fountain Hills dba Cornerstone Family Church in Fountain Hills, Arizona, there was a special Memorial service in celebration of […]
This is part 11 of a series of 12 informative videos on how to cope with all the damage COVID brings. Where Pastor Lindsey Williams interviews Rodrigo Rodriguez, MD, founder of BioCare Hospital and Wellness Center. Call BioCare Now:  1-800-262-0212 Website: International BioCare Hospital and Wellness Center Pastor Lindsey Williams Hi, this is Lindsey Williams. […]
This is part 10 of a series of 12 informative videos on how to cope with all the damage COVID brings. Where Pastor Lindsey Williams interviews Rodrigo Rodriguez, MD, founder of BioCare Hospital and Wellness Center. Call BioCare Now:  1-800-262-0212 Website: International BioCare Hospital and Wellness Center Pastor Lindsey Williams Hi, this is Lindsey Williams. […]