HEALING THE ELITE WAY
New DVD From Lindsey Williams
[testimonial] [tentry image="" name="Lindsey Williams" company="Author of The Energy Non-Crisis"]
"The Most Important DVD I Have Ever Made!
It Saved My Life!
This DVD May Save Your Life!"
Pastor Lindsey Williams
Think About It –
No President of the United States has ever died from Cancer.
– Why? What do they know that you don't know?
President Ronald Reagan was diagnosed with Colon Cancer while he was President. He imported a substance that was illegal to be used in the United States at that time. He never had a reoccurrence.
There is no reason to suffer from –
Cancer
Heart Disease
Diabetes
Chronic Fatigue Syndrome
Multiple Sclerosis
Hepatitis C
Hormonal Imbalance
Vascular Disease
Immunological Imbalance
"The Elite know how to be healed – I have been told some of their secrets. Thus, this DVD, Healing the Elite Way." – Lindsey Williams [/tentry] [/testimonial]
 HEALING THE ELITE WAY
New DVD From Lindsey Williams
Order Now Online Click The Order Button

Or call Prophecy Club at 888-799-6111
---
---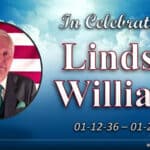 "I have fought a good fight, I have finished my course, I have kept the faith." – Lindsey Williams In Celebration of LINDSEY WILLIAMS January 12, 1936 – January 23, 2023 On Saturday, April 1, 2023, at FBC Fountain Hills dba Cornerstone Family Church in Fountain Hills, Arizona, there was a special Memorial service in celebration of […]
This is part 11 of a series of 12 informative videos on how to cope with all the damage COVID brings. Where Pastor Lindsey Williams interviews Rodrigo Rodriguez, MD, founder of BioCare Hospital and Wellness Center. Call BioCare Now:  1-800-262-0212 Website: International BioCare Hospital and Wellness Center Pastor Lindsey Williams Hi, this is Lindsey Williams. […]
This is part 10 of a series of 12 informative videos on how to cope with all the damage COVID brings. Where Pastor Lindsey Williams interviews Rodrigo Rodriguez, MD, founder of BioCare Hospital and Wellness Center. Call BioCare Now:  1-800-262-0212 Website: International BioCare Hospital and Wellness Center Pastor Lindsey Williams Hi, this is Lindsey Williams. […]