Lindsey Williams – K-Talk – Mills Crenshaw – June 2013
Lindsey Williams on K-Talk speaking with Mills Crenshaw in June 2013. Pastor Williams discusses the latest information from his elite friend as well as information from Congressman David Stockman. Chaplain Williams also takes calls.
Pastor Williams also discusses his new DVD "New Signs Of The Elite", available for 70% off!
He also discusses getting out of paper and into 'tangibles' such as gold and silver. Check out this exclusive article where Lindsey Williams tells us why the price of gold has been falling for several months.
Pastor Lindsey Williams' book "The Energy Non-Crisis" is now available on Amazon Kindle.
Chaplain Lindsey Williams' book "To Seduce A Nation" is now available on Amazon Kindle.
Mills Crenshaw's show can be listened to at the K-Talk website.
Find out more about Lindsey Williams' DVDs

---
---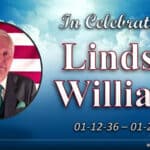 "I have fought a good fight, I have finished my course, I have kept the faith." – Lindsey Williams In Celebration of LINDSEY WILLIAMS January 12, 1936 – January 23, 2023 On Saturday, April 1, 2023, at FBC Fountain Hills dba Cornerstone Family Church in Fountain Hills, Arizona, there was a special Memorial service in celebration of […]
This is part 11 of a series of 12 informative videos on how to cope with all the damage COVID brings. Where Pastor Lindsey Williams interviews Rodrigo Rodriguez, MD, founder of BioCare Hospital and Wellness Center. Call BioCare Now:  1-800-262-0212 Website: International BioCare Hospital and Wellness Center Pastor Lindsey Williams Hi, this is Lindsey Williams. […]
This is part 10 of a series of 12 informative videos on how to cope with all the damage COVID brings. Where Pastor Lindsey Williams interviews Rodrigo Rodriguez, MD, founder of BioCare Hospital and Wellness Center. Call BioCare Now:  1-800-262-0212 Website: International BioCare Hospital and Wellness Center Pastor Lindsey Williams Hi, this is Lindsey Williams. […]