Pastor Lindsey Williams tells us about the greatest event in the financial world in the past 1,000 years is about to take place. Two hundred and four nations have agreed with the IMF (International Monetary Fund) to reset their currency. Christine Lagarde is the new financial head of the IMF. If she and the Elite have their way, this event will take place within the next ninety days (three months) The Elite have prepared you for this event with an Electric Smart Meter which has been installed on almost every house in America. Only from my Elite friend will you ever know what has been done to you. Only on my new DVD will you learn these details. No one else will dare to tell you this.
*** You have to get gold and silver, immediately! You must hold it in your hand. You can buy Gold and Silver Coins and Bars at Wholesale prices and with Free Shipping on Orders over $199, through our Recommended Gold and Silver Dealer. Check out the special gold and silver offers here.
*** If you have an IRA or 401k you need to rollover your Retirement Account into Gold and Silver Bullion as soon as possible! Time is short! You can find out more about the process of turning your paper assets into Physical Gold and Silver by Clicking Here and talking to this Gold and Silver IRA Specialist.
This presentation of the Global Currency Reset (GCR) from Pastor Lindsey Williams is required viewing by all Americans. Please share this presentation with everyone you know.
---
---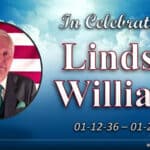 "I have fought a good fight, I have finished my course, I have kept the faith." – Lindsey Williams In Celebration of LINDSEY WILLIAMS January 12, 1936 – January 23, 2023 On Saturday, April 1, 2023, at FBC Fountain Hills dba Cornerstone Family Church in Fountain Hills, Arizona, there was a special Memorial service in celebration of […]
This is part 11 of a series of 12 informative videos on how to cope with all the damage COVID brings. Where Pastor Lindsey Williams interviews Rodrigo Rodriguez, MD, founder of BioCare Hospital and Wellness Center. Call BioCare Now:  1-800-262-0212 Website: International BioCare Hospital and Wellness Center Pastor Lindsey Williams Hi, this is Lindsey Williams. […]
This is part 10 of a series of 12 informative videos on how to cope with all the damage COVID brings. Where Pastor Lindsey Williams interviews Rodrigo Rodriguez, MD, founder of BioCare Hospital and Wellness Center. Call BioCare Now:  1-800-262-0212 Website: International BioCare Hospital and Wellness Center Pastor Lindsey Williams Hi, this is Lindsey Williams. […]