The DVD 'Global Currency Reset' must not be posted on the Internet. The opening titles of the DVD state clearly:
'PLEASE DO NOT POST THIS DVD ON THE INTERNET!'
It also states 'Certain individuals have taken great risks to get you this information. This DVD is not copywritten. Please copy it and give to your friends and family'. This means please share the DVD, copy the DVD and give it to friends and family, it doesn't mean upload it to the Internet or YouTube.
I have personally contacted several YouTube channel owners who have uploaded the DVD to their channels and requested they remove it. They have happily and promptly complied to the request. We also thank them for their support in this matter. However, others have not complied to Pastor Williams' wishes.
The reason behind the request to remove the video has been told to me by Pastor Williams, he says:
'There may be repercussions in the future. I may not be able to do future videos. My friend does not seem to like this information on YouTube. As you know – About four years ago I was threatened and had to shut down for a while. If people only could understand – But they don't seem to. They will be the losers because I will not be able to give them information.'
After courteously asking one YouTube channel owner to remove the DVD from their channel, they responded demanding to speak with Pastor Williams before removing it and completely ignored the reason behind the request for the video's removal. They were even monetizing the video with advertising and linking to a silver pyramid scheme website. Another YouTube channel had only one video, the Global Currency Reset DVD. They never responded when I politely asked them to remove the DVD from their channel. That one also had advertising on it. This means these YouTube channel owners are not only not adhering to Pastor Williams' wishes, but they are also profiting from Pastor Williams' work.
Please understand that mass distribution of this information has serious repercussions…
Pastor Williams has told me again 'If this one individual continues to insist on keeping it up and I get my hand called – It will only mean that future information may be limited. This would be sad for both me and everyone else.'
This is the ONLY DVD Pastor Williams has requested not be shared on the Internet or on YouTube.
Pastor Williams has requested that the DVD in its entirety not be uploaded to the Internet. However, he has no problems with anyone creating videos themselves discussing the 'Global Currency Reset', or those deriving clips from the DVD for educational purposes alongside their own personal commentary in a video made by themselves, so long as the majority of the video is not lifted straight from the DVD. Chaplain Williams also has no issue with anyone copying the physical DVD and passing it to friends or family.
I trust everyone will respect the wishes of Pastor Williams and not upload the 'Global Currency Reset' to the Internet. I have contacted all YouTube channel owners who have uploaded the video and requested they remove it as soon as possible. I have contacted YouTube directly to disable the videos who's channel owners have not complied to the removal request.
This is very important issue and had to be addressed publicly so that everyone understands the reasons for the video being removed from the Internet, as well as what may happen if our requests fall on deaf ears.
Regards
James Harkin
On behalf of LindseyWilliams.net
---
---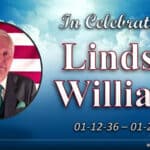 "I have fought a good fight, I have finished my course, I have kept the faith." – Lindsey Williams In Celebration of LINDSEY WILLIAMS January 12, 1936 – January 23, 2023 On Saturday, April 1, 2023, at FBC Fountain Hills dba Cornerstone Family Church in Fountain Hills, Arizona, there was a special Memorial service in celebration of […]
This is part 11 of a series of 12 informative videos on how to cope with all the damage COVID brings. Where Pastor Lindsey Williams interviews Rodrigo Rodriguez, MD, founder of BioCare Hospital and Wellness Center. Call BioCare Now:  1-800-262-0212 Website: International BioCare Hospital and Wellness Center Pastor Lindsey Williams Hi, this is Lindsey Williams. […]
This is part 10 of a series of 12 informative videos on how to cope with all the damage COVID brings. Where Pastor Lindsey Williams interviews Rodrigo Rodriguez, MD, founder of BioCare Hospital and Wellness Center. Call BioCare Now:  1-800-262-0212 Website: International BioCare Hospital and Wellness Center Pastor Lindsey Williams Hi, this is Lindsey Williams. […]