I have had an email update from Pastor Lindsey Williams relating to what is about to happen around the world in relation to the global currency reset.
Pastor Williams says "There are some strange things happening in the financial world in the past few weeks. I have been hesitant to risk my reputation on what I know. Christine Lagarde, IMF personally came to the U.S. a few days ago. A gentleman who was in the meeting she had with some of the most powerful people in America, he said she was very angry and vowed to close some banks down if they did not cooperate immediately. We are in the midst of a big power struggle. People that I know in the financial world are extremely concerned because they expect "that one of the numerous things could happen any time"."
He went on to say "The best advice I can give is – "If it is written on a piece of paper, it is worth the paper it is written on." GET OUT OF PAPER!" Those of you who prepare now are going to prosper. Those who second guess Pastor Williams' warnings will find the future bleak.
Furthermore, he also told me "I have done no radio shows and cannot for a while because I don't dare answer certain questions."
Chaplain Williams will not be available until the middle of February 2014. However, he said that "I will send you updates every time I can (am allowed to)."
Pastor Williams ended his email stating "please urge everyone to get the Global Currency Reset DVD and give it to everyone they know". If you have not already viewed the DVD you can purchase one from Prophecy Club. This DVD will inform you about what is happening and how you can protect yourself and your family. The currency reset could happen at any time, without warning.
On a personal note, I have read the comments that come from the many concerned visitors and followers of Pastor Williams' work at his website LindseyWilliams.net. It looks like several people are trying to out-guess the Elite. As Pastor Williams has said many times GET OUT OF PAPER! Fiat currencies such as the Iraqi Dinar, Chinese Yuan and Bitcoin are worthless. The only investment you should make is in physical gold and silver. Pastor Williams has said this time and time again "Gold and silver are the currency of the Elite!" Please listen to what he says and prepare accordingly.
---
---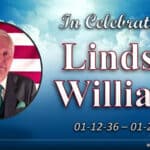 "I have fought a good fight, I have finished my course, I have kept the faith." – Lindsey Williams In Celebration of LINDSEY WILLIAMS January 12, 1936 – January 23, 2023 On Saturday, April 1, 2023, at FBC Fountain Hills dba Cornerstone Family Church in Fountain Hills, Arizona, there was a special Memorial service in celebration of […]
This is part 11 of a series of 12 informative videos on how to cope with all the damage COVID brings. Where Pastor Lindsey Williams interviews Rodrigo Rodriguez, MD, founder of BioCare Hospital and Wellness Center. Call BioCare Now:  1-800-262-0212 Website: International BioCare Hospital and Wellness Center Pastor Lindsey Williams Hi, this is Lindsey Williams. […]
This is part 10 of a series of 12 informative videos on how to cope with all the damage COVID brings. Where Pastor Lindsey Williams interviews Rodrigo Rodriguez, MD, founder of BioCare Hospital and Wellness Center. Call BioCare Now:  1-800-262-0212 Website: International BioCare Hospital and Wellness Center Pastor Lindsey Williams Hi, this is Lindsey Williams. […]