economic collapse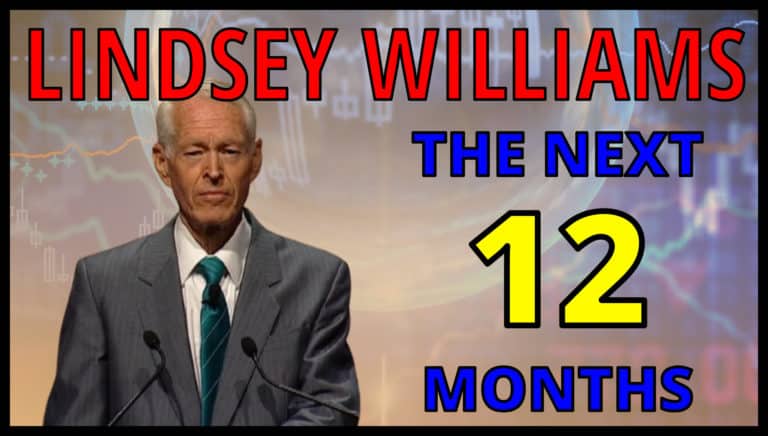 Pastor Lindsey Williams on the Next 12 Months and what this will mean for the world we live in. In the summer of 2008 Lindsey Williams was warned by the world banking/oil elite of the coming economic collapse that will be soon engineered by them by manipulation of the world's oil markets in order to wage economic warfare against the middle east. and OPEC.
*** You have to get gold and silver, immediately! You must hold it in your hand. You can buy Gold and Silver Coins and Bars at Wholesale prices and with Free Shipping on Orders over $199, through our Recommended Gold and Silver Dealer. Check out the special gold and silver offers here.
*** If you have an IRA or 401k you need to rollover your Retirement Account into Gold and Silver Bullion as soon as possible! Time is short! You can find out more about the process of turning your paper assets into Physical Gold and Silver by Clicking Here and talking to this Gold and Silver IRA Specialist.
This DVD was released in 2009. It's more poignant now than it ever was. Prepare immediately!
This presentation of The Next 12 Months from Pastor Lindsey Williams is required viewing by all Americans. Please share this presentation with everyone you know.
Pastor Lindsey Williams has confirmed that there will be be a worldwide economic and financial crash slated for 2015 after the Patient Protection and Affordable Care Act (HR 3590) is fully enacted. The act is not a healthcare bill but works hand in glove with the Uniting and Strengthening America by Providing Appropriate Tools Required to Intercept and Obstruct Terrorism (USA PATRIOT ACT) Act of 2001 (HR 3162) for total control of the USA and ultimately the world in one swift move. The word is control and their ultimate goal is to enslave the entire population of the planet. The plan is so ingenious and simple it's incredible. This is not a theory, this is the truth and verified by the very highest echelons of the elite. The crash must happen, the economies of the world are already on a knife-edge one piece of bad news and it will come crashing down taking all the banks, investment banks and pension funds with it. Chaos will reign and out of the chaos order will come. It is taking place so the elite can come to the rescue and that will see the initiation of the new world government and the debasement of the US Dollar. The crash that is coming will make 2008 look like a minor financial correction. Imagine all companies, all businesses, all mortgages all owned by the elite. Its a very real threat and you only have a short window in order to protect yourself from it. This is why I have taken Pastor Lindsey Williams steps to avoid the crash as he shared in his new DVD "Elite Emergency Data" and expanded them into an extensive article to hopefully explain what is happening, why and how you can protect your family from it, even prosper from it…
I have outlined the 10 Steps To Avoid The Crash in several sections to make it easier to digest, please read it all and follow the steps as best you can:
Once you have carried out these 10 steps you will be better able to survive, even thrive through the coming collapse. Of course a lot of people's situations do not permit them to carry out all the steps, just do as much as you can. Being prepared for the worst is the best protection. Please share the articles with as many people as you can, because everyone needs to know what has been planned for them by the elite.
Please do not take the article lightly and do not take it at face value. Please do your own research and if you have a differing opinion, please share it.
I have also created the entire 10 Steps To Avoid The Crash article into a 100 page illustrated PDF E-Book. Please download and share it freely. Download the e-book here.
Billionaire Issues Chilling Warning About Interest Rate Derivatives
"Just within the past few days I have been told approximately when it will happen! There is a sign, I will tell it shortly!" – Pastor Lindsey Williams
Will rapidly rising interest rates rip through the U.S. financial system like a giant lawnmower blade? Yes, the U.S. economy survived much higher interest rates in the past, but at that time there were not hundreds of trillions of dollars worth of interest rate derivatives hanging over our financial system like a Sword of Damocles. This is something that I have been talking about for quite some time, and now a Mexican billionaire has come forward with a similar warning. Hugo Salinas Price was the founder of the Elektra retail chain down in Mexico, and he is extremely concerned that rising interest rates could burst the derivatives bubble and cause "massive bankruptcies around the globe". Of course there are a whole lot of people out there that would be quite glad to see the "too big to fail" banks go bankrupt, but the truth is that if they go down our entire economy will go down with them. Our situation is similar to a patient with a very advanced stage of cancer. You can try to kill the cancer with drugs, but you will almost certainly kill the patient at the same time. Well, that is essentially what our relationship with the big banks is like. Our entire economic system is based on credit, and just like we saw back in 2008, if the big banks start failing credit freezes up and suddenly nobody can get any money for anything. When the next great credit crunch comes, every important number in our economy will rapidly start getting much worse.
The big banks are going to play a starring role in the next financial crash just like they did in the last one. Only this next crash may be quite a bit worse. Just check out what billionaire Hugo Salinas Price told King World News recently
Hugo Salinas Price said "I think we are going to see a series of bankruptcies. I think the rise in interest rates is the fatal sign which is going to ignite a derivatives crisis. This is going to bring down the derivatives system (and the financial system).

There are (over) one quadrillion dollars of derivatives and most of them are related to interest rates. The spiking of interest rates in the United States may set that off. What is going to happen in the world is eventually we are going to come to a moment where there is going to be massive bankruptcies around the globe.

What is going to be left after the dust settles is gold, and some people are going to have it and some people are not. Then the problem is going to be to hold on to what you've got because it's not going to be a very pleasant world."…
Right now, there are about 441 trillion dollars of interest rate derivatives sitting out there. If interest rates stay about where they are right now and they don't go much higher, we will be fine. But if they start going much higher, all bets will be off and we could see financial carnage on a scale that we have never seen before.
"This Is Exactly What My Elite Friend Said Will Happen" – Lindsey Williams
Source: Michael Snyder, editor of The Economic Collapse blog.
UPDATE: August 11, 2013 — Due to overwhelming demand I have asked Pastor Williams to elaborate a little more on his statement relating to signs of the collapse. He has said you will need to do certain things before January 1, 2014. He has told me that he will be releasing a new DVD series discussing what his elite friend has told him within the past few days. Since this relates to what may be in store for the economy he has decided to arrange a meeting with his Wall Street insider, who will be featured in his new DVD series to explain in potent detail what may be vital to the welfare and even survival of those who listen. Pastor Williams has stated that he must have this information recorded before he does any radio shows. Expect this new DVD series to be released in the middle of September 2013. It will be released to those who have subscribed to his mailing list first, so if you haven't already subscribed please do so on the right hand side of this page.
Pastor Williams has shared with us very important information relating to getting out of paper investments and into physical investments such as gold, silver and other tangible assets. He also stated that land for growing organic food would also be of considerable benefit to the security of your dinner table. He also said to get out of debt and if you have the ability to pay off your mortgage. It is also imperative for you to fix your medicine cabinet, Pastor Williams created his DVD – Healing The Elite Way that shows you how the elite heal themselves. Most of all Pastor Williams says you should get your spiritual house in order — At the very least you should do these things before January 1, 2014…