From James Harkin (Webmaster & Editor of LindseyWilliams.net). There was a great number of comments encouraging news stories to be shared at LindseyWilliams.net, therefore every week I will add a new post with the latest news stories that you need to review. Also, if you have any important news stories please send them to me (James) and I will include them.
Someone also asked for an archive of Past Newsletters. I have gone through all of the newsletters Pastor Williams has asked me to send and compiled a list that is available on the Past Newsletters page.
Latest News From January 15, 2016 to January 21, 2016:
Precious Metals Are The Only Lifeboat! Only last month I WARNED you what was happening in the gold market and why you needed to convert your paper assets to physical gold and silver by the middle of September 2015. Now, we are currently in global financial meltdown, with no end in sight. You have no more time. You need to hedge against the financial instability with physical gold and silver. Call the experts to help you convert your IRA or 401k into Gold, Silver and Other Precious Metals. Call GoldCo NOW before it's too late! Call Toll-Free 1-877-414-1385.
---
---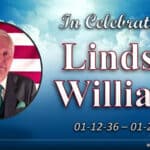 "I have fought a good fight, I have finished my course, I have kept the faith." – Lindsey Williams In Celebration of LINDSEY WILLIAMS January 12, 1936 – January 23, 2023 On Saturday, April 1, 2023, at FBC Fountain Hills dba Cornerstone Family Church in Fountain Hills, Arizona, there was a special Memorial service in celebration of […]
This is part 11 of a series of 12 informative videos on how to cope with all the damage COVID brings. Where Pastor Lindsey Williams interviews Rodrigo Rodriguez, MD, founder of BioCare Hospital and Wellness Center. Call BioCare Now:  1-800-262-0212 Website: International BioCare Hospital and Wellness Center Pastor Lindsey Williams Hi, this is Lindsey Williams. […]
This is part 10 of a series of 12 informative videos on how to cope with all the damage COVID brings. Where Pastor Lindsey Williams interviews Rodrigo Rodriguez, MD, founder of BioCare Hospital and Wellness Center. Call BioCare Now:  1-800-262-0212 Website: International BioCare Hospital and Wellness Center Pastor Lindsey Williams Hi, this is Lindsey Williams. […]