From James Harkin (Webmaster & Editor of LindseyWilliams.net). Here is a summary of articles of interest from around the world for this week. A lot of news about the current global collapse. We are still looking at derivatives and that could come from China as predicted. Keep an eye on the news daily. For the past month I have been putting up many stories every day at the Lindsey Williams Online Facebook Page that are important to understand what is happening and how you can protect yourself.
We have now seen gold jump to close to $1,250. It broke $1,200 yesterday and jumped an additional $50 today. For those who didn't prepare when you were warned, unfortunately the life rafts are running out. Gold supplies are running low. Lead times are well over 30 days and now will be considerably more because demand for physical metal is up.
Lindsey Williams Online | Promote your Page too

Latest News From February 5, 2016 to February 11, 2016:
ELITE PLANS FOR 2016 – Take Immediate Action! – A New DVD From Pastor Lindsey Williams. Who will be the next president of the U.S.? Why no financial collapse in 2015? Hear from someone in contact with the Elite. Political Correctness. Five firearms every American should own. Is war inevitable? ORDER NOW online for shipment now. Or call Prophecy Club Toll-Free 1-888-799-6111.
---
---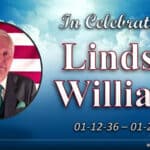 "I have fought a good fight, I have finished my course, I have kept the faith." – Lindsey Williams In Celebration of LINDSEY WILLIAMS January 12, 1936 – January 23, 2023 On Saturday, April 1, 2023, at FBC Fountain Hills dba Cornerstone Family Church in Fountain Hills, Arizona, there was a special Memorial service in celebration of […]
This is part 11 of a series of 12 informative videos on how to cope with all the damage COVID brings. Where Pastor Lindsey Williams interviews Rodrigo Rodriguez, MD, founder of BioCare Hospital and Wellness Center. Call BioCare Now:  1-800-262-0212 Website: International BioCare Hospital and Wellness Center Pastor Lindsey Williams Hi, this is Lindsey Williams. […]
This is part 10 of a series of 12 informative videos on how to cope with all the damage COVID brings. Where Pastor Lindsey Williams interviews Rodrigo Rodriguez, MD, founder of BioCare Hospital and Wellness Center. Call BioCare Now:  1-800-262-0212 Website: International BioCare Hospital and Wellness Center Pastor Lindsey Williams Hi, this is Lindsey Williams. […]