From James Harkin (Webmaster & Editor of LindseyWilliams.net). Here is a summary of articles of interest from around the world for this week. Please LIKE the Lindsey Williams Online Facebook Page to see stories posted daily regarding the current state of the economy around the world.
Lindsey Williams Online | Promote your Page too

Latest News From December 16, 2016 to December 22, 2016:
THE FINAL BUBBLE! Pastor Williams says the information shared by this economist is outstanding and correct. What he says will happen. >>> CLICK HERE TO WATCH THE VIDEO (This video is being shared because the information within it is truly good and correct. Half way through the video it turns into a sales pitch to sell a book and related products. Pastor Williams has asked me to state that Pastor Williams and LindseyWilliams.net do not endorse this book).
---
---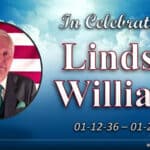 "I have fought a good fight, I have finished my course, I have kept the faith." – Lindsey Williams In Celebration of LINDSEY WILLIAMS January 12, 1936 – January 23, 2023 On Saturday, April 1, 2023, at FBC Fountain Hills dba Cornerstone Family Church in Fountain Hills, Arizona, there was a special Memorial service in celebration of […]
This is part 11 of a series of 12 informative videos on how to cope with all the damage COVID brings. Where Pastor Lindsey Williams interviews Rodrigo Rodriguez, MD, founder of BioCare Hospital and Wellness Center. Call BioCare Now:  1-800-262-0212 Website: International BioCare Hospital and Wellness Center Pastor Lindsey Williams Hi, this is Lindsey Williams. […]
This is part 10 of a series of 12 informative videos on how to cope with all the damage COVID brings. Where Pastor Lindsey Williams interviews Rodrigo Rodriguez, MD, founder of BioCare Hospital and Wellness Center. Call BioCare Now:  1-800-262-0212 Website: International BioCare Hospital and Wellness Center Pastor Lindsey Williams Hi, this is Lindsey Williams. […]