Click Play to Watch the Trailer for Chaplain Williams' Latest DVD
---
---
 THE NEW AGENDA


…KNOWING THIS IS YOUR KEY TO SURVIVAL!
New DVD From Lindsey Williams
ORDER YOUR COPY NOW!
Available for shipment now!*
The Elite Agenda – Point by Point.

Reserve Currency – Which One?

How Long Do We Have?

Why The Elite Changed Their Agenda.

MONEY – Under The New Agenda.

Gold and Silver.

Suggested New Mindset.
– Chaplain Lindsey Williams
– Author of The Energy Non-Crisis
---

 THE NEW AGENDA


…KNOWING THIS IS YOUR KEY TO SURVIVAL!
The New DVD From
Pastor Lindsey Williams
Order

NOW

Online For

SHIPMENT NOW!*
Click The Order Button Below
Or Call Prophecy Club Toll-Free


1-888-799-6111
*Starting immediately, orders will be shipped as inventory becomes available.
---
ALSO AVAILABLE ON-DEMAND
To Download and Stream At Anytime
---
---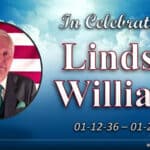 "I have fought a good fight, I have finished my course, I have kept the faith." – Lindsey Williams In Celebration of LINDSEY WILLIAMS January 12, 1936 – January 23, 2023 On Saturday, April 1, 2023, at FBC Fountain Hills dba Cornerstone Family Church in Fountain Hills, Arizona, there was a special Memorial service in celebration of […]
This is part 11 of a series of 12 informative videos on how to cope with all the damage COVID brings. Where Pastor Lindsey Williams interviews Rodrigo Rodriguez, MD, founder of BioCare Hospital and Wellness Center. Call BioCare Now:  1-800-262-0212 Website: International BioCare Hospital and Wellness Center Pastor Lindsey Williams Hi, this is Lindsey Williams. […]
This is part 10 of a series of 12 informative videos on how to cope with all the damage COVID brings. Where Pastor Lindsey Williams interviews Rodrigo Rodriguez, MD, founder of BioCare Hospital and Wellness Center. Call BioCare Now:  1-800-262-0212 Website: International BioCare Hospital and Wellness Center Pastor Lindsey Williams Hi, this is Lindsey Williams. […]