Pastor Lindsey Williams introduces Pastor David Bowen with his regular short weekly video for readers of Pastor Williams' weekly newsletter. If you are not a subscriber please subscribe for free by entering your name and email address in the box below.
Pastor David Bowen is pastor of Standing Stones Community Church in Phoenix, AZ. For more information about Pastor Dave please visit http://standingstonescc.org/
Pastor Dave is also creator of the website Interpreting The Times, understanding world events through scripture. You can find out more by visiting http://www.interpretingthetimes.com/
Please leave your thoughts and comments below regarding this new addition to Pastor Williams' newsletter each week.
---
---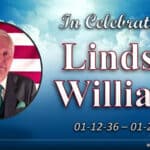 "I have fought a good fight, I have finished my course, I have kept the faith." – Lindsey Williams In Celebration of LINDSEY WILLIAMS January 12, 1936 – January 23, 2023 On Saturday, April 1, 2023, at FBC Fountain Hills dba Cornerstone Family Church in Fountain Hills, Arizona, there was a special Memorial service in celebration of […]
This is part 11 of a series of 12 informative videos on how to cope with all the damage COVID brings. Where Pastor Lindsey Williams interviews Rodrigo Rodriguez, MD, founder of BioCare Hospital and Wellness Center. Call BioCare Now:  1-800-262-0212 Website: International BioCare Hospital and Wellness Center Pastor Lindsey Williams Hi, this is Lindsey Williams. […]
This is part 10 of a series of 12 informative videos on how to cope with all the damage COVID brings. Where Pastor Lindsey Williams interviews Rodrigo Rodriguez, MD, founder of BioCare Hospital and Wellness Center. Call BioCare Now:  1-800-262-0212 Website: International BioCare Hospital and Wellness Center Pastor Lindsey Williams Hi, this is Lindsey Williams. […]