In recent weeks I have been receiving increasing numbers of negative comments through the website contact form regarding Pastor Lindsey Williams message. I find the level of disrespect of a member of our religious community disheartening. Furthermore, the level of intelligence of the individuals sending these comments to me is low considering it clearly says on the contact form that I have no personal contact with Lindsey Williams. I am not Lindsey Williams, this site was set up by myself in order to showcase Pastor Lindsey Williams extensive video, audio and written content.
Two specific comments said that Lindsey Williams never gets to the point and is just trying to get money. However, if you see by my site I put up everything Pastor Williams does as soon as it hits YouTube, so effectively there is no cost to you if you cannot afford to buy his videos. I don't charge for this site and currently I have no income generation from this site. It is set up purely to showcase Pastor Lindsey Williams out of respect for him and his extensive collection of work.
At the end of the day, if you do not like the message Lindsey Williams has to say, don't listen to it. There are plenty of researchers out there that have alternative points of view. So *PLEASE* cut out the negative comments, they are totally pointless.
Regards
James Harkin (Site Administrator)
---
---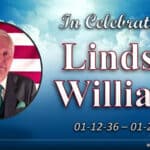 "I have fought a good fight, I have finished my course, I have kept the faith." – Lindsey Williams In Celebration of LINDSEY WILLIAMS January 12, 1936 – January 23, 2023 On Saturday, April 1, 2023, at FBC Fountain Hills dba Cornerstone Family Church in Fountain Hills, Arizona, there was a special Memorial service in celebration of […]
This is part 11 of a series of 12 informative videos on how to cope with all the damage COVID brings. Where Pastor Lindsey Williams interviews Rodrigo Rodriguez, MD, founder of BioCare Hospital and Wellness Center. Call BioCare Now:  1-800-262-0212 Website: International BioCare Hospital and Wellness Center Pastor Lindsey Williams Hi, this is Lindsey Williams. […]
This is part 10 of a series of 12 informative videos on how to cope with all the damage COVID brings. Where Pastor Lindsey Williams interviews Rodrigo Rodriguez, MD, founder of BioCare Hospital and Wellness Center. Call BioCare Now:  1-800-262-0212 Website: International BioCare Hospital and Wellness Center Pastor Lindsey Williams Hi, this is Lindsey Williams. […]