Lindsey Williams – GoldSeek Radio – September 2012 (2)
Lindsey Williams on Gold Seek Radio with Chris Waltzek for the second time in September 2012. Pastor Williams discusses the latest information about the elite's plan for global domination including the mortgage takeover.
Summary: The Federal Reserve will buy toxic mortgage backed securities at the rate of $40 Billion a month indefinitely. These toxic assets will be used to buy derivatives that multiplied by fractional methodology will see trillions of dollars created from nothing. The banks that the Federal Reserve will buy these securities from will use the money to buy US treasuries and not be used to help the economy. The same is happening in other western countries including Europe. The estimated $600 Trillion to $1.5 Quadrillion derivatives market will be used to bring down every currency in the World simultaneously so that the humanity will be begging the elite to give them a new world electronic currency. However, this will not happen until the elite, via their corporate interests own all the real estate in the US. Furthermore, margin requirements will be raised again on gold and silver in order to control another price spike, however Pastor Williams' source was not sure it would work next time.
Find out more about Lindsey Williams' DVDs
Click Here
---
---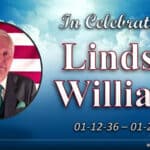 "I have fought a good fight, I have finished my course, I have kept the faith." – Lindsey Williams In Celebration of LINDSEY WILLIAMS January 12, 1936 – January 23, 2023 On Saturday, April 1, 2023, at FBC Fountain Hills dba Cornerstone Family Church in Fountain Hills, Arizona, there was a special Memorial service in celebration of […]
This is part 11 of a series of 12 informative videos on how to cope with all the damage COVID brings. Where Pastor Lindsey Williams interviews Rodrigo Rodriguez, MD, founder of BioCare Hospital and Wellness Center. Call BioCare Now:  1-800-262-0212 Website: International BioCare Hospital and Wellness Center Pastor Lindsey Williams Hi, this is Lindsey Williams. […]
This is part 10 of a series of 12 informative videos on how to cope with all the damage COVID brings. Where Pastor Lindsey Williams interviews Rodrigo Rodriguez, MD, founder of BioCare Hospital and Wellness Center. Call BioCare Now:  1-800-262-0212 Website: International BioCare Hospital and Wellness Center Pastor Lindsey Williams Hi, this is Lindsey Williams. […]