Pastor Williams has sent me a number of important articles and said "everyone must know what is happening." One article from AFP discusses China's decision to begin direct trading between its yuan currency and the euro that started on September 30, 2014. Pastor Williams has said that "anyone who hasn't gotten out of paper and made total preparations must be awakened to take action immediately. The collapse of the dollar as the World Reserve Currency and Petrodollar is accelerating VERY rapidly."
'AFP – China will begin direct trading between its yuan currency and the euro starting on Tuesday, the national foreign exchange market's operator said, as Beijing seeks to broaden the unit's global usage.
The China Foreign Exchange Trade System already offers a platform for yuan-euro transactions but direct trading means the US dollar will not be used as an intermediary currency to calculate rates, according to a statement released Monday.
The market operator said the move aimed to promote bilateral trade and investment, facilitate the use of yuan in cross-border trade and lower conversion costs.
In June, China started direct trade between the yuan and Britain's pound, one of several currencies to be included in a streamlined regime.
China has long had direct currency trade with the United States, and in recent years has added Japan's yen, the Australian dollar, the New Zealand dollar and Malaysian ringgit.
Beijing keeps a tight grip on the capital account — investment and financial transactions, rather than those related to trade — on worries that unpredictable inflows or outflows could harm the economy and reduce its control over it.
But China is seeking greater use of the yuan — also known as the Renminbi (RMB) — in line with its status as the world's second-largest economy and to challenge the US dollar, analysts say.
"Direct trading brings together the RMB with the world's second-most actively traded currency and is a significant step in (the) RMB's globalisation," said Ryan Song, head of markets for China at British bank HSBC, which is acting as a market maker for the new pair.
"The trade and investment ties between China and the European Union, as two of the world's major economies, can be further strengthened through the greater convenience of direct trading in this pair," he said in an HSBC statement.
The yuan closed at 7.8085 to the euro on Monday, according to the China Foreign Exchange Trade System.'
Pastor Williams is urging everyone to obtain his latest DVD 'Special Events Scheduled for 2015' and get it to everyone they know, he said "if they ever cared about their loved ones – It is NOW. Everything I was told is coming to pass very rapidly."
Another article shared by him discusses China buying up the USA for pennies on the dollar with Lenovo Group Ltd., a Chinese multinational computer technology company acquiring the IBM x86-based server business. The $2.1 billion acquisition gives Lenovo the third biggest slice of the market for x86 servers, which is estimated to be worth $42.1 billion globally.
Whilst China is busily buying up the USA, Pastor Williams has told me "many currencies in the world seem to be in grave trouble right now, not just the American dollar." This comes when the Russian Ruble drops to a record low and rapidly approaching the level at which Russia's central bank said it would intervene.
Pastor Williams has also said "things are happening so rapidly" and urges you to go to LindseyWilliams.net on a regular basis for updates.
He ended his email with "Unbelievable how things are happening right before our eyes TODAY!" and continued "Hopefully – All of this indicates that the coming of Christ is near and the world is being set up for the worldwide Crash of Crashes which the antichrist can be issued in on." And concluded "EVEN SO COME QUICKLY LORD JESUS."
---
---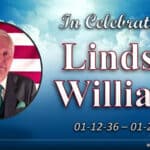 "I have fought a good fight, I have finished my course, I have kept the faith." – Lindsey Williams In Celebration of LINDSEY WILLIAMS January 12, 1936 – January 23, 2023 On Saturday, April 1, 2023, at FBC Fountain Hills dba Cornerstone Family Church in Fountain Hills, Arizona, there was a special Memorial service in celebration of […]
This is part 11 of a series of 12 informative videos on how to cope with all the damage COVID brings. Where Pastor Lindsey Williams interviews Rodrigo Rodriguez, MD, founder of BioCare Hospital and Wellness Center. Call BioCare Now:  1-800-262-0212 Website: International BioCare Hospital and Wellness Center Pastor Lindsey Williams Hi, this is Lindsey Williams. […]
This is part 10 of a series of 12 informative videos on how to cope with all the damage COVID brings. Where Pastor Lindsey Williams interviews Rodrigo Rodriguez, MD, founder of BioCare Hospital and Wellness Center. Call BioCare Now:  1-800-262-0212 Website: International BioCare Hospital and Wellness Center Pastor Lindsey Williams Hi, this is Lindsey Williams. […]