The greatest victory that has ever been won AGAINST the Elite in the history of America, took place when Donald Trump was elected as President of the United States of America.
The Elite are Mortally wounded. Truly ELITE DEFEAT!
In my opinion – The only way this could have ever happened is that God himself (JEHOVAH) personally stepped in and won the victory. This was "Historic" just as it was when God intervened for Israel in Egypt. God honored the faith of the founding fathers of America.
Everyone reading our News Letter – Be sure to give God the glory. PRAY and thank Him.
It is anyones guess what the Elite will do now. I will issue special bulletins whenever I am told what to expect.
Chaplain Williams
---
---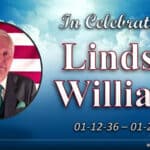 "I have fought a good fight, I have finished my course, I have kept the faith." – Lindsey Williams In Celebration of LINDSEY WILLIAMS January 12, 1936 – January 23, 2023 On Saturday, April 1, 2023, at FBC Fountain Hills dba Cornerstone Family Church in Fountain Hills, Arizona, there was a special Memorial service in celebration of […]
This is part 11 of a series of 12 informative videos on how to cope with all the damage COVID brings. Where Pastor Lindsey Williams interviews Rodrigo Rodriguez, MD, founder of BioCare Hospital and Wellness Center. Call BioCare Now:  1-800-262-0212 Website: International BioCare Hospital and Wellness Center Pastor Lindsey Williams Hi, this is Lindsey Williams. […]
This is part 10 of a series of 12 informative videos on how to cope with all the damage COVID brings. Where Pastor Lindsey Williams interviews Rodrigo Rodriguez, MD, founder of BioCare Hospital and Wellness Center. Call BioCare Now:  1-800-262-0212 Website: International BioCare Hospital and Wellness Center Pastor Lindsey Williams Hi, this is Lindsey Williams. […]