WATCH for the announcement of a NEW DVD by Chaplain Williams in a few days!
Will Donald Trump be the next president?

The Elite and God.

Two currencies.

Big trouble among the Elite.

David Stockman gives a date for the CRASH!

The most encouraging DVD I have ever made.
We will be sending out an email to everyone on the email list announcing the new DVD.
If you have not already signed up to the newsletter please sign up by entering your name and email in the box to the right. If you sign up today you will also gain access to Pastor Williams' best presentation on 'The Energy Non-Crisis', it is definitely something you should watch.
---
---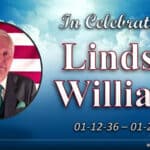 "I have fought a good fight, I have finished my course, I have kept the faith." – Lindsey Williams In Celebration of LINDSEY WILLIAMS January 12, 1936 – January 23, 2023 On Saturday, April 1, 2023, at FBC Fountain Hills dba Cornerstone Family Church in Fountain Hills, Arizona, there was a special Memorial service in celebration of […]
This is part 11 of a series of 12 informative videos on how to cope with all the damage COVID brings. Where Pastor Lindsey Williams interviews Rodrigo Rodriguez, MD, founder of BioCare Hospital and Wellness Center. Call BioCare Now:  1-800-262-0212 Website: International BioCare Hospital and Wellness Center Pastor Lindsey Williams Hi, this is Lindsey Williams. […]
This is part 10 of a series of 12 informative videos on how to cope with all the damage COVID brings. Where Pastor Lindsey Williams interviews Rodrigo Rodriguez, MD, founder of BioCare Hospital and Wellness Center. Call BioCare Now:  1-800-262-0212 Website: International BioCare Hospital and Wellness Center Pastor Lindsey Williams Hi, this is Lindsey Williams. […]